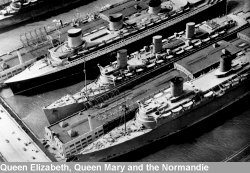 Ships of State: the Great Atlantic Liners - This site is a favourite of mine, written and maintained by Kevin Tam, a great site for pictures and information.
SS America - Find out what became of the SS America/Australis.
The Queen Mary Seaport - Official RMS Queen Mary Seaport web site.
Gary's Titanic Page - Facts about the Titanic, Olympic, Brittanic and Lusitania.
The Great Ocean Liners - Another great site dedicated to superliners.
Maritime Matters - Comprehensive site, one of the largest on the web.
The Queen Mary Page - The Queen Mary Foundation.
Titanic Site - History of the Titanic and her sister ships.
An Introduction to Ocean Liners - An ocean liner Frequently Asked Questions page, including information on all the Atlantic superliners.
Royal Regals of the Sea - Another quality Liner site.
The Unofficial Holland America Line Homepage - A site Ocean Liner enthusiasts should visit.
Ocean Liner Museum - Great page, interesting articles and photos of the liners and provides places where liner enthusiasts can correspond.



FastCounter by bCentral
People have visited this page
since; 11/6/96 | Ocean Liners | Links | View Guestbook | Sign Guestbook | E-mail |