You are visitor: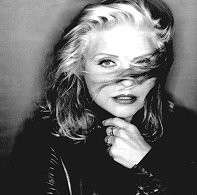 Welcome to the unofficial Debbie Harry page. Much of Blondie's success can be attributed to the talents of its lead singer Deborah Harry. Her alternative "sex kitten" appeal, provided an effective focus for media attention. But Harry was more than the visual, writing or co-writing many of Blondie's hits, including; "Heart of Glass", "Dreaming" and "Call Me". After Blondie split, Deborah Harry went on to have a checkered, but successful solo career. Although Harry's solo recordings fit generally into the pop/rock genre, in recent years she has been expanding her musical base to include Jazz and collaborating with musicians such as the Talking Heads. As from 1998 Deborah Harry reformed with the original members of Blondie and has released a new album titled "No Exit", which spawned a number 1 single in the UK, "Maria".



Note: This Deborah Harry tribute page will be updated only at six month intervals. Please visit our sister page; The Blondie Archive for regular Debbie Harry updates and don't forget to check out Deborah Harry's new single with Robert Jacks, "Der Einziger Weg".





Debbie Harry Page; design and graphics ©1999 by, Red Dirt Boy.